If I was to base my predictions for the results of Thursday's European elections on the number and size of political campaign posters and hoardings I see on my journey to work,UKIP would on for a landslide victory. Despite the constant drip-drip of stories UKIP candidates' politically incorrect and occasionally racist comments – of which yesterday's 'My rivals should be hanged for treason, says Ukip candidate' is the latest example – there appears to be nothing that will curtail their march towards political significance and a potentially humiliating victory over the big three parties this week.
It's not that long ago that European elections weren't even as interesting as local ones. They have been little more than a chance to gauge the level of public satisfaction with the governing party. European politics has never engaged the British public in any meaningful way beyond being a source of occasional irritation and bemusement and making us increasingly adamant that having anything to do with the Euro would have been a disaster. We tolerate the EU because we can see some economic benefits, but that's about it. If we ever reach the point of having a full-blown in/out referendum, it's going to be an almighty challenge for politicians to persuade vast swathes of the British public that staying in Europe is worth it.
How many of us think that our votes in the European elections will make a visible difference? The parties who perform well will bask in their moment of glory for a short while, but would we notice any real difference in terms of how we see the European parliament functioning if any party swept the boards? So whereas the voter intentions for next year's general election currently put UKIP support at around 13 per cent, for the European elections it is double that. What's more, a ComRes poll this weekend found that UKIP supporters are far more likely to bother to make the trip to the polling stations this week than Labour or Conservative voters. There is a genuine chance that the British public will give UKIP a historic victory and in the process stick two fingers up to the EU and the other British parties.
What Nigel Farage has been so adept at doing is tapping into widespread fears about immigration and a loss of Britishness as the EU appears to gradually erode the Government's control over our own laws. Then there is the dissatisfaction over the way the main political parties are conducting their business with apparently scant regard for the views of the voters who put them into power in the first place. Party leaders and their MPs, are regularly seen to be callous career politicians, coming from privileged backgrounds and appearing far more interested in their own political maneuvering than serving their constituents. Even Ed Miliband during an interview on this morning's Radio 4 Today programme said that he fully understood why the public is 'deeply disillusioned' with the current political system.
Farage, in contrast, has mastered the art of portraying himself as a rare breed of politician who is straight talking, publicly putting into words what many of the electorate think and addressing their concerns head on. The problem is that these concerns and opinions are built on a great number of false assumptions. To put it bluntly, we as the British public en mass, are an ignorant bunch of people. According to an Ipsos Mori poll from last year, British public opinion is repeatedly off the mark on issues including crime, benefit fraud and immigration. It found that the public think that £24 of every £100 of benefits is fraudulently claimed. Official estimates are that just 70 pence in every £100 is fraudulent – so the public conception is out by a factor of 34. Also some 31 per cent of the population is thought to consist of recent immigrants, when the figure is actually 13 per cent. Even including illegal immigrants, the figure is only about 15 per cent. On the issue of ethnicity, black and Asian people are thought to make up 30 per cent of the population, when the figure is closer to 11 per cent.
One more notable figure is that 26 per cent of people think foreign aid is in the top three items the Government spends money on. This is wildly out – it actually makes up just 1.1 per cent of expenditure. This sort of misconception gives UKIP's call to cut foreign aid a popularist legitimacy. There is a question though of how many people, UKIP voters or otherwise, actually have any idea what their policies are beyond immigration and Europe. According to yet another YouGov poll from this weekend, over 60 per cent of the public say that they have no idea about a whole raft of UKIPs policies. There are plenty of us who have an incredibly limited understanding of what UKIP stands for and yet we would still rather vote for them this week.
So what does this all mean for someone like me who as a Christian feels compelled to vote, but wants to use their 'X' wisely?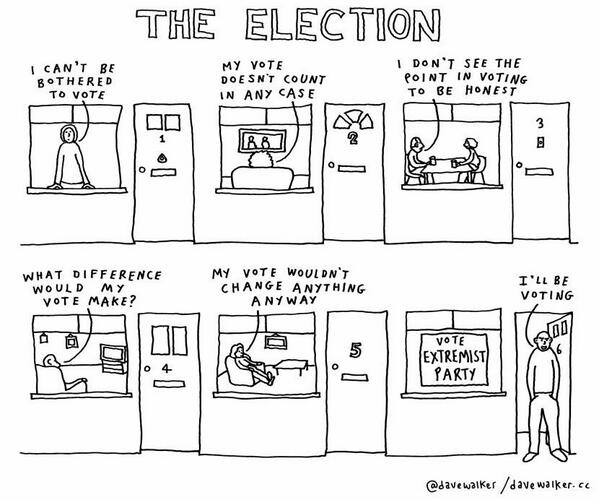 It's worth saying that despite UKIP's extensive and varied flaws, they may just be what our political system needs at this time. Challenges to the status quo sharpen thinking and expose the failings in the system. One (not so) young upstart has the main parties severely rattled. Nigel Farage breaks the mould and is causing the other politicians to re-evaluate the way their parties engage with the public. We could do with a few more politicians, especially at the top, in all parties who are willing to stir things up and break new ground. Sadly the negativity shown towards UKIP and Farage by the main parties worryingly shows up their inability to find a constructive response and give the voters good reason to place their allegiance on Thursday elsewhere.
Voting for UKIP is not a sin, but when the intensely eurosceptic Sun Newspaper starts writing editorials accusing Nigel Farage of being a racist then that should start to raise alarm bells amongst even UKIP's most ardent supporters that they continue to show little sign of being mature enough to represent us with sufficient decorum and sense as our biggest party in Europe.
It has never been the intention of this blog to tell readers how to vote. Instead the aim is to encourage informed understanding of the issues of the day and respond accordingly. Jesus said of himself that he is 'the way, the truth and the life'. Christians are called to be truth seekers – to find and expose it and to fight against deception and lies. If for example we see the tabloid press stirring up prejudice that has little if any foundation against immigrants, it fully deserves to be addressed and countered.
Truth cannot be found in ignorance and the least all of us – and especially Christians – should be doing is going to the ballot box with an informed opinion. There are enough good resources available that allow us to do that without a great deal of effort. Andy Walton from the Contextual Theology Centre in London has written an Idiot's Guide to the European Elections. CARE are a Christian organisation who work in politics and have a branch based in Brussels. They have launched an incredibly helpful European election website. The Evangelical Alliance has an European elections page too.
And in case you still want to read any more, this site has recently run a series of guest posts where Christians gave their reasons for voting for a particular party including UKIP. The articles are:
So how will I vote on Thursday? Jesus calls us to be shrewd as snakes and as innocent as doves, i.e. both discerning and wise, as well as innocent and blameless. The important thing is that I go to the polling station, having done a bit of homework and am able to place my mark with a clear conscience. We would do well to encourage each other to do the same.
UPDATE: Jonathan Arnott, the General Secretary of UKIP has responded to this piece in a guest post here.
---
---
Categories: Elections, Party politics